Never too Naked: The Shocking and Hilarious Biography of Bambi Kellermann, by Pieter-Dirk Uys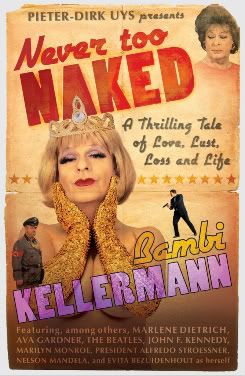 This September, Zebra is proud to announce the publication of Never too Naked, the revealing story of Bambi Kellerman, the wild younger sister of the legendary Evita Bezuidenhout:
Evita Bezuidenhout might be the most famous white woman in South Africa, but her younger sister Bambi, the blonde Afrikaans meisie who married a Nazi and became a stripper on Hamburg's Reeperbahn, has a much juicier story to tell.
In this fictional autobiography, Pieter-Dirk Uys traces Bambi's journey from the Orange Free State to Europe, the USA, South America, and back to a democratic South Africa. On the way she meets The Beatles in Hamburg, travels with Hemingway in Spain, rubs shoulders with Marlene Dietrich and Ava Gardner, sups with Paraguay's dictator General Stroessner, and of course engages with her sister Evita.
Peopled with showgirls and film stars, Nazi hunters and secret agents, this is an outrageous and hilarious tale.
About the author
Pieter-Dirk Uys born in Cape Town, South Africa in 1945, has been in the theatre since the mid-1960s. Closely associated with both the Space Theatre in Cape Town and Johannesburg's Market Theatre during the 1970s and 1980s, he has written and performed 18 plays and over 30 revues and one-man shows throughout South Africa. His plays Paradise is closing down, Panorama, God's Forgotten, Faces in the Wall, and Just like Home have been performed internationally, and his one-man shows Adapt or Dye, One Man One Volt, You ANC Nothing Yet, Truth Omissions, Live from Boerassic Park, Dekaffirnated, and Foreign Aids have been presented in the United Kingdom, Denmark, Germany, Holland, USA, and Canada. Most of his satirical work is available in South Africa on video and so, in spite of government censorship during apartheid, he built up a very large multiracial audience.
Members of the present democratic Parliament remember seeing his videos in prison and in exile! He has also written Evita Bezuidenhout's biography A Part Hate A Part Love, as well as a book based on his 1994 12 part television series Funigalore, in which Evita Bezuidenhout interviewed the new democratic leaders, including Nelson Mandela. His most recent novel Trekking to Teema was South Africa's first Internet Book, before being published in 'tree-format'. A new memoir, Elections & Erections is now being launched.
Pieter-Dirk Uys has been doing this sort of thing for so long, people refer to it as a career. Officially unemployed since the early 1970s, he writes, directs, acts, produces and does everything else, including the making of dresses and the wearing of them! Having survived the mediocrity of "apartheid kultuur", it is his therapy and joy to expose the bones of the dinosaur for the entertainment of democratic audiences world-wide. He is also delighted to still have a government who on a daily basis write his best material! Pieter-Dirk Uys lives in a small town near Cape Town on the West Coast of South Africa called Darling. There he has converted the old railway station into a cabaret venue called Evita se Perron (Perron is Afrikaans for "station platform"). It has two theatres, a restaurant/bar, arts and craft market and a satirical garden called Boerassic Park, and is the domain of Evita Bezuidenhout, the "most famous white woman in South Africa".
Book details