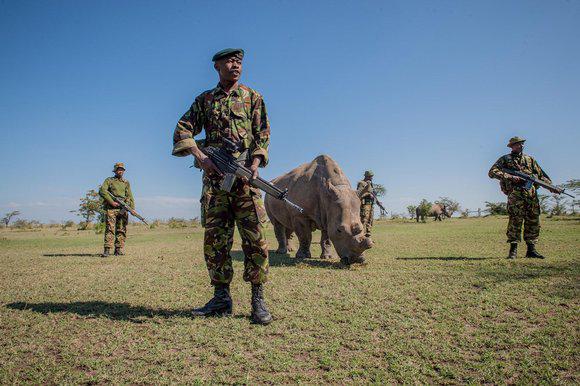 22 September is World Rhino Day, so take a minute to meet Sudan, the last male northern white rhinoceros in the world, and see what you can do to help his kind.
Sudan is kept at the Ol Pejeta reserve in northern Kenya, where five keepers give him round-the-clock care and protection from poachers.
Watch a video about Sudan, and find out what you can do to spread the word: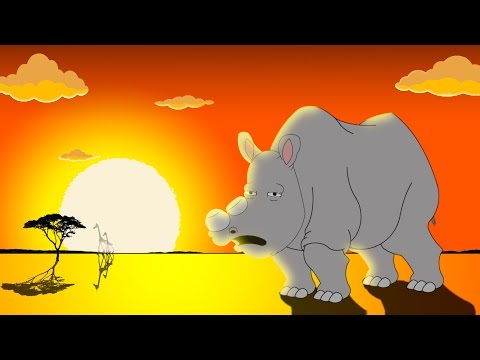 * * * * *
The average lifespan of a rhino is 35, meaning there is not much hope that 42-year-old Sudan will produce any offspring. However, a groundbreaking new breeding project is providing some hope for the northern white rhino.
There's quite a lot of northern white rhino semen stored around the world, says Vigne, but "what there isn't is a method of preserving female rhino eggs", so if the females here, and one in a San Diego zoo die, so does the plan to perpetuate the sub-species.

"The really key thing here is that the females stay alive," says Vigne – long enough for scientists to successfully extract their eggs.

If this pioneering process works, the northern white's egg and frozen sperm would be implanted into a southern white rhino in South Africa or a European zoo.
* * * * *
Meanwhile, South African private game reserves are beginning to sell their rhinos, as it becomes more expensive to protect them from poachers. Julian Rademeyer, who recently won the prestigious Marjan-Marsh Award for his book Killing for Profit: Exposing the Illegal Rhino Horn Trade, says criminals are coming up with "incredibly ingenious schemes and scams", a situation exacerbated by the slow bureaucratic processes that exist to fight them.
It took South Africa a decade to end "pseudo hunts" by mainly Asian poachers posing as tourists to exploit a legal loophole and export horn legally, says Rademeyer.

After the Ukrainian and Czech tourists that followed were stopped, gangs started bringing Asian prostitutes from Johannesburg to pose as hunters and export horn in their names.

Rademeyer describes it as "like the drugs war" with a trail of criminal elements stretching far across countries and continents, including neighbouring Mozambique whose poachers cross into Kruger and whom South Africa cannot extradite.
Book details
Image: Kenyan Facts on Twitter
» read article