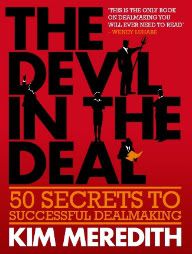 Coming soon from Zebra Press:
Dealmaking is the lifeblood of business – the heart. It is what makes business tick. So why isn't dealmaking the number-one subject taught in business schools? Why do businesspeople have to learn about dealmaking the hard way, through painful and often expensive experiences? Is it because business schools can't let go of their outdated ideas on negotiation and selling? If so, the time has come to change these perceptions so that success and financial rewards can be achieved in every sphere of life.
The Devil in the Deal delivers what it says on the tin: it cunningly reveals the 'secrets' everyone should know about dealmaking in business and ruthlessly exposes the 50 little devils that can break a deal. It is essential reading for anyone who wants to make great deals in the real world, quickly and profitably.
About the author
Kim Meredith is an internationally acclaimed lecturer, sales strategist, negotiator and dealmaker and is the chief executive officer of the globally represented The Dealmaker Programmes Company, based in Mauritius. She was one of only 179 women on the boards of the top 300 Johannesburg Stock Exchange–listed companies in 2000. Her most recent corporate position was with a listed information technology group, where she spent four years on the board as executive director of strategy. During this time, she was responsible for global strategy, including actively driving negotiations for key mergers, acquisitions and disposals. She also lectures and consults in the USA, Latin America, Europe and Africa.
Her two previous books are Work Diva: How to Climb the Corporate Ladder without Selling your Soul and Deal Diva: How to Negotiate your Way to Success without Selling your Soul.
You can visit Kim Meredith's website at www.thedealmaker.com
Book details
» read article